Featured Resorts & Lodges
in Luang Prabang, Laos
Just outside of Luang Prabang, some truly special resorts and lodges have been developed over the past years. We encourage all of our guests to enjoy a night or two outside of town. Go explore the hidden side of Laos, the jungles and forests, the Elephants and waterfalls... It will make your tour to Laos a really memorable one. Tiger Trail is the first local tour operator in Luang Prabang arranging easy-to-book packages that combine activities and a stay in one of the featured resorts.
Here we present to you a few resorts & lodges around Luang Prabang
Contact us for our current special offers and package options...
"Hillside Lifestyle Resort" Luang Prabang
The hidden valley waiting for you - 9 Rooms
Luxurious and affordable, family friendly and lifestyle oriented resort in Luang Prabang! The wonderful Hillside Resort is located about 13 km away from Luang Prabang world heritage town. It is blessed with a garden of flowers, tropical fruit trees, surrounded by a teak wood forest, rice fields an pineapple plantations. It is in fact a hidden valley which tourist hardly ever visit. It also comes with a perfect Family Bungalow with 3 bed equipment.
The location and the landscape around the Hillside Resort is of pure beauty and for sure you will enjoy the tranquility of the Laos countryside. The swimming pool is an additional treat and a refreshment especially in the hot season. Bungalows are built in traditional style and with natural materials...optional activities such as trekking, biking and viewpoint visits are possible from here. See our 2 day Hillside Retreat special offer...
Pricerange 60-90 USD/ night. Ask us for the competitive rates and 2 or 3 day packages that can combine trekking, village interaction, Kuang Si Waterfalls and other activities.
Zen Namkhan Boutique Resort,
Luang Prabang - 8 Bungalows

In midst of our main activity and Fair Trek area you will find the perfect slice of paradise right in the Lao nature! The Zen Namkhan Resort offers luxurious rooms, Bungalows and Suites with breathtaking views in pure peace and tranquility, just a few minutes from Luang Prabang.
Enjoy the magnificent scenery on the banks of the Nam Khan River with magnificent views over high rising mountains outside of Luang Prabang. The Zen Namkhan Resort respects the highest eco-tourism and local heritage standards and therefore is one of our highly recommended places to stay. All "Tiger Trail" and "Fair Trek" activities may start from here and after your tour you simply find the perfect place to relax and see the world in a whole new light...
The Zen Namkhan Resort features spacious Bungalows, a breathtaking 180° view on the Namkhan River and mountains, a delicious restaurant with a second floor mountain view gallery, herbal steam bath and sauna, a natural and biological pool…
Ask for our special retreat packages for the Zan Nam Khan Resort in Luang Prabang. We can offer you ocompetitive rates and packages that can combine elephant interaction programs, trekking tours, village visits, Kayak trips Tad Sae Waterfall visits, Zip Line and more...
Write to our team for tailor made packages
Rooms Pricerange 70-150+ USD/ night.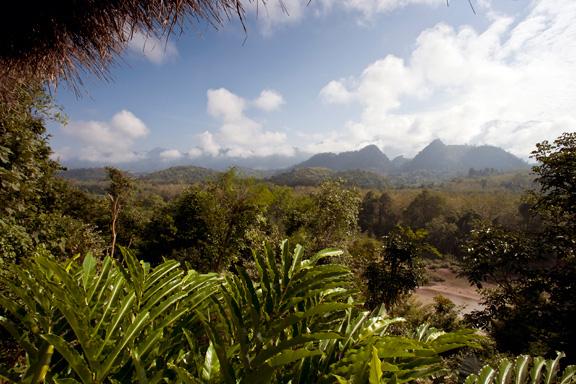 Shangri Lao Classic Explorer Camp,
Luang Prabang - 4 Luxury Safari Tents
This is more an experience than simply a lodge or resort!

The Shangri Lao Classic Explorer Camp has taken elephant interaction programs and outdoor activities to a new level of experience in Laos. Set on the banks of the banks Nam Khan River, 30 min. from Luang Prabang, the camp is a real safari experience as your 'home' comes as a luxurious safari tent, complete with high class anamities, shiny wooden flooring and en suite facilities that include a bathtub or even a whirlpool...
Your program at Shangri Lao, 2-3 day tours are offered, generally includes a wide range of activities as well as the visit to the beautiful jungle areas of the Tad Sae waterfall and the Nam Khan river. Luxury jungle lunch, a classic style raft ride on the river as well as an educational walk through the forest areas make the Shangri Lao expeirence simply unique.
Throughout your stay at Shangri Lao you will engage with the elephants and their mahouts in a wide of array of interaction ranging from feeding, walking and to joining in the superb experience of bathing the Elephants. If this is not enough, take a choice in a number of additional treks and village visits that you can make with the local guides. Shangri Lao shows big efforts for conservation and sustainable business in such a natural environment in rural areas.
Reserve your Shangri Lao Experience here
The Shangri Lao Explorer camp can only be booked in combination with one of our Elephant Interaction programs, or an outdoor adventure tour that uses this facility. Write to our team for special packages




"Elephant Lodge" Luang Prabang,
managed by Elephant Village
Located next to the Lao Spirit Resort this additional Lodge building is a restored old farm house with a very destinctive Lao charm. With its privacy along the river and its 5 nicely furnished rooms it offers a good value for price option for people who love experience Elephants in Laos and still stay on a budget within natural beauty.
At the Elephant Lodge you will not find a telephone or television...but for sure the sounds of lush tropical nature. Find out more about our tours to Elephant Lodge & Elephant Village. Enjoy a basic jungle experience at the Elephant Lodge Luang Prabang and combine it with one of our unique tours.
The Elephant Lodge can only be booked in combination with one of our Elephant Interaction programs, or an outdoor adventure tour that uses this facility. Write to our team for special packages
Click here to see our Elephant Interaction Programs,
or Multi Day Adventure Tours in Luang Prabang
The Lao Spirit Resort
A nature lovers paradise, 5+ Bungalows
Situated along the NamKhan river in a beautiful jungle setting about 30 min. outside of Luang Prabang, the Lao Spirit Resort may be called the essential middle class jungle retreat in Laos, offering nature lovers an untapped paradise to stay at and explore.
The resort has five Lao traditionally styled bungalows built from local materials and with local craftsmen and artists that give the resort a real authentic Lao feel. Lao Spirit Resort also features a beautiful garden and riverside Restaurant with views over the river and into the mountain sceneries.
But even more interestingly, the resort consists of a few restored 100 year old Laotian-French style buildings. The restaurant, reception and a former old salary house currently under renovation show cultural conservation and commercial use in a perfect symbioses.
If you want to experience a luxurious holiday stay between retreat and activities, the Lao Spirit Resort will make your dreams come true. Ask out team for special tour offers.
Include the Resort on a Short Break or after a cycling, trekking or kayaking tour. See more of our short tours that can be combined with the Lao Spirit Experience. Short Breaks / Luang Prabang Daytours
Pricerange 130+ USD/ night. Ask us for the competitive rates and packages that can combine elephant interaction programs, trekking, village visits, Tad Sae Waterfall visits, Zip Line...and kayaking