How to travel to Laos
It was never easier to come to Laos since air links and roads improve around Laos and the region. If you are coming from Bangkok or Hanoi, Singapore or Kuala Lumpur, you are just a short and often even cheap flight away from Laos or Luang Prabang.

COVID-19 Travel Information for Laos
Most travelers who travel to Laos arrive at the Suvarnabhumi Airport in Bangkok and make their way up north into Laos through Vientiane, the border town near the golden triangle, Houay Xai, or in the south through the areas of Pakse and Ubon Ratchathani. Even though air links into Laos and especially to Luang Prabang are expanding, the great big hubs around Laos are: Bangkok, Hanoi, Kuala Lumpur, and Singapore.
There are night buses, airplanes and train connections between major cities of South East Asia connecting with Laos (Vientiane, Pakse and Luang Prabang) and we want to help you to make your visit to Laos easier with the below information, which we keep updated on a monthly basis. You may also want to visit our Laos travel blog, Explore-Laos.com, which has weekly stories and news on all things related to travel to Laos.
---
Lao Visa Information
The Lao government has recently changed where 30-day tourist visas on arrival are issued. Travelers flying into Wattay/Vientiane International Airport, Pakse/Champassak International Airport, or Luang Prabang International Airport can still get a visa on arrival. When crossing via land borders, only the following borders are still issuing visas on arrival:
Trapaingkriel - Veun Kham, Stung Treng Province to Champasack Province (Cambodia)
Mohan - Boten , Yunnan to Luang Namtha Province (China)
Chiangkhong - Houixay, Chiang Rai to Bokeo Province (Thailand)
Lao-Thai Friendship Bridge I, Nong Khai-Vientiane Capital (Thailand)
Lao-Thai Friendship Bridge II, Moukdahan-Savannakhet Province (Thailand)
Lao-Thai Friendship Bridge III, Nakorn Phanom-Thakhek/Khammouane Province (Thailand)
Chongmek - Vangtao, Ubol Ratchathani to Champasack Province (Thailand)
Thanaleng Railway Station (Thailand)
Lao Bao - Dansavanh, Quang tri to Savannakhet Province (Vietnam)
You need between US$ 20 and US$ 42 cash, one passport-size photo (4 x 6 cm), the name of a hotel or guesthouse and phone number. Those without a photo will have to pay an additional fee of about US$ 2. The visa fee varies depending on the passport of origin, with Canadians having to fork out the most (US$ 42) and most other nationalities paying between US$ 30 and US$ 35. It is recommended to pay in US$. No other foreign currencies are accepted at Airports. Overland you can use Thai Baht, but the Visa fee becomes about 1,500 Thb which is approx. $48.
Of course, you can always request a visa in advance from the local Lao embassy in the country you are in for various prices. You will be charged a fee depending on nationality for a Lao visa on arrival. Prices generally range from New Zealand US$30, Americans US$35, Canadians US$42, Australians US$30, Chileans US$30, Belgians US$30, British, Dutch, Italians US$35, Swedes US$31, Germans $30-$35. When you are applying for a Lao visa on arrival (and possibly at Lao embassies abroad), you must bring two small passport-sized photos of yourself. If you do not have any, you will be required to pay an additional fee of about US$1 for them to scan your passport for the visa. The Lao visa then can be received by filling out the relevant forms at the moment you arrive at the Lao border or Airport here in Laos.

And here is some great news too, you can stay in Laos up to 3 months without leaving the country with a visa extension. Entry permit extensions (sometimes referred to as "visa extensions") are available from the Immigration Department in Vientiane, the Immigration Department in Luang Prabang, the Police Station in Pakse, the Police Station opposite the Lao-Mongolian Hospital in Phonsavan and in other cities. Extensions are not possible in Savannakhet, although it is located near the border so you can do a border run. The cost is 20,000 kip per day plus a small "form fee" ranging between 5,000 kip (Pakse) to 25,000 kip (Luang Prabang).
---
Flying into Laos
Flying is the easiest way to get into Laos.
If you fly through international connections, you most likely will find that it is easier to arrive in Bangkok first. Bangkok connects well with Laos to the airports of Luang Prabang, Vientiane and Pakse. The international airports at Vientiane and Luang Prabang are served by the Lao national carrier Lao Airlines and a few others, including Thai Airways, Bangkok Airways (Luang Prabang only), and Vietnam Airlines. Pakse is the third international airport with flights to/from Siem Reap as well as to/from Ho Chi Minh City. Luang Prabang also has a daily connection from Chiang Mai, Hanoi, and other upcoming hubs in the booming region. You can take a direct flight from Singapore, Hoh Chi Minh City, Hanoi, and many cities in China aside from Bangkok.
Laos Travel Money Saving Tip:
Check on Air Asia flights which now connect to Laos from Bangkok Don Muang Airport to Vientiane and Luang Prabang. Air Asia is also flying into Laos from Kuala Lumpur since the end of 2016.

If you want to use a quick and easy way to fly indirectly into Laos, you can choose a cheap air carrier to Ubon Ratchathani or Udon Thani! Book with a discount or low-cost carrier airlines Nok Air or Air Asia to fly to Udon Thani or Ubon Ratchathani. Then connect to Nong Khai and the Friendship Bridge via a 40-minute shuttle service from the airport. Once you cross the Friendship Bridge, Vientiane is only 17km away.
Airlines serving Lao Airports
Lao Airlines • Vietnam Airlines • China Southern • Thai Airways • Bangkok Airways • EVA Air
If you are already in the region, check out a new low-cost carrier connections with Air Asia.
---
Traveling Overland to Laos

Entering Laos from Thailand
Entering Laos via Chiang Mai:
From Chiang Mai you can take a bus to the Thai and Laos border towns of Chiang Khong and Houay Xai on the Lao border. This border crossing links over the new Mekong Bridge and further by road to Houay Xay on the Laos Mekong side. This route gives you access to great tours and cruises on the Mekong to Luang Prabang, or overland to Luang Namtha and Muang Sing into northern Laos. And if you are interested in a Mekong Cruise down to Luang Prabang, please contact us and we can offer you the perfect package on public, private, luxury or even charter boats. Here is a fantastic tour example of 4 day Mekong Cruise from the Thai Border to Luang Prabang, or check out this 2 day Mekong Cruise Tour.
An alternative Route by bus from Chiang Mai to Luang Prabang is available with overnight buses which travel thr route to Nan province in east Thailand and then cross the border to Laos near Hong Sa. This connection is receving well supported roads, new bridges and a quite fast access to Luang Prabang. The improvements of this route are ongoing in 2017 and will be better and better.
Entering Laos via Chiang Rai, Northern Thailand:
To enter Laos via Chiang Rai, you will need to go to the Chiang Khong border crossing in northern Thailand. You will enter Laos over the Mekong near the golden triangle. It may also be worth a day trip to some of the border towns in this area. The border town in Laos at the northern Thai gateway is called Houay Xai, and is the same entry point on the Mekong as if you come from Chiang Mai.


Entering Laos via Udon Thani and to Vientiane

You can also take a train or bus to and from Udon Thani. From here you can easily make your way to Nong Khai, the Thai border town to Laos. You will have to cross the Friendship Bridge into Vientiane, the capital of Laos.

Traveling into Southern Laos from Thailand
If you want to travel into southern Laos, you will have to access Laos via Ubon Ratchanthani in Thailand and travel on to the border town of Chong Mek. This border town will bring you to the southern Lao town of Pakse. There are regular buses that travel to here. Udon Ratchathani also has an airport which easily connects to Bangkok and some other international destinations. Through this link you can find easy connections via trains, buses into eastern Thailand. From Ubon Ratchanthani it is just about one hour to the Thai/Lao border in Southern Laos. We offer an excellent tour package that travels from southern Laos all the way up to the north. Come check out our amazing South Laos Special Tour Package!
Entering Laos from Cambodia
Since 2010, it is possible to cross overland from Cambodia into Laos. The nearest Cambodian town is Stung Treng, and the border is a 90-minute speedboat or bus ride away. It is also possible to cross into Laos at the entry point of Dong Crorlor in Cambodia. There are buses that will connect from Phnom Penh up to the border. However, this route may be a little more difficult during the rainy season (June to October).

Warning: There may periodically be a change of buses when crossing the border here. In that case, be sure to always get on the bus that has your luggage so you do have the possibility of losing it. The 'King of Bus' company has been known to lose luggage by switching buses a few times during your ride.
Entering Laos from Vietnam
It is easy to arrange from major cities in Vietnam. Hanoi, Hue, Hoi An, Saigon and other cities provide good bus connections into Laos aside from providing direct flights. You can buy bus tickets in all major agencies and also get your visas there. Visa on arrival for Laos is possible on most ports/border points, please check before you come with the official websites and the immigration.
Warning: There has been some coconflictingnformation about crossing the border in Tay Trang with a Vietnamese motorbike. It was at one point possible to cross the border with a motorbike and pay a small fee, but there are now some reports that travelers are denied access into Laos with a motorbike from Vietnam due to vehicle registration issues. It may be easier to avoid this way of crossing the border, and wait to rent a bike when you arrive inside Laos.
Travel to Laos from China
The land crossing between Mengla (Yunnan) and Boten (Laos) is open to foreigners and they wil issue a visa on arrival (abou US$37 depending on nationality). You can also get an advance visa in the Lao consulate located in Kunming. There is a daily bus service that operates from Mengla to Luang Namtha and Udomxai. Buses from Mengla to Luang Namtha leave from the North bus station in Mengla, and will cost you about 40 RMB (US$6.50).
Travel to Laos from Myanmar (Burma)
Currently foreigners cannot legally cross the Laos/Myanmar border and updates shall be available soon.
---
Traveling to Laos via Train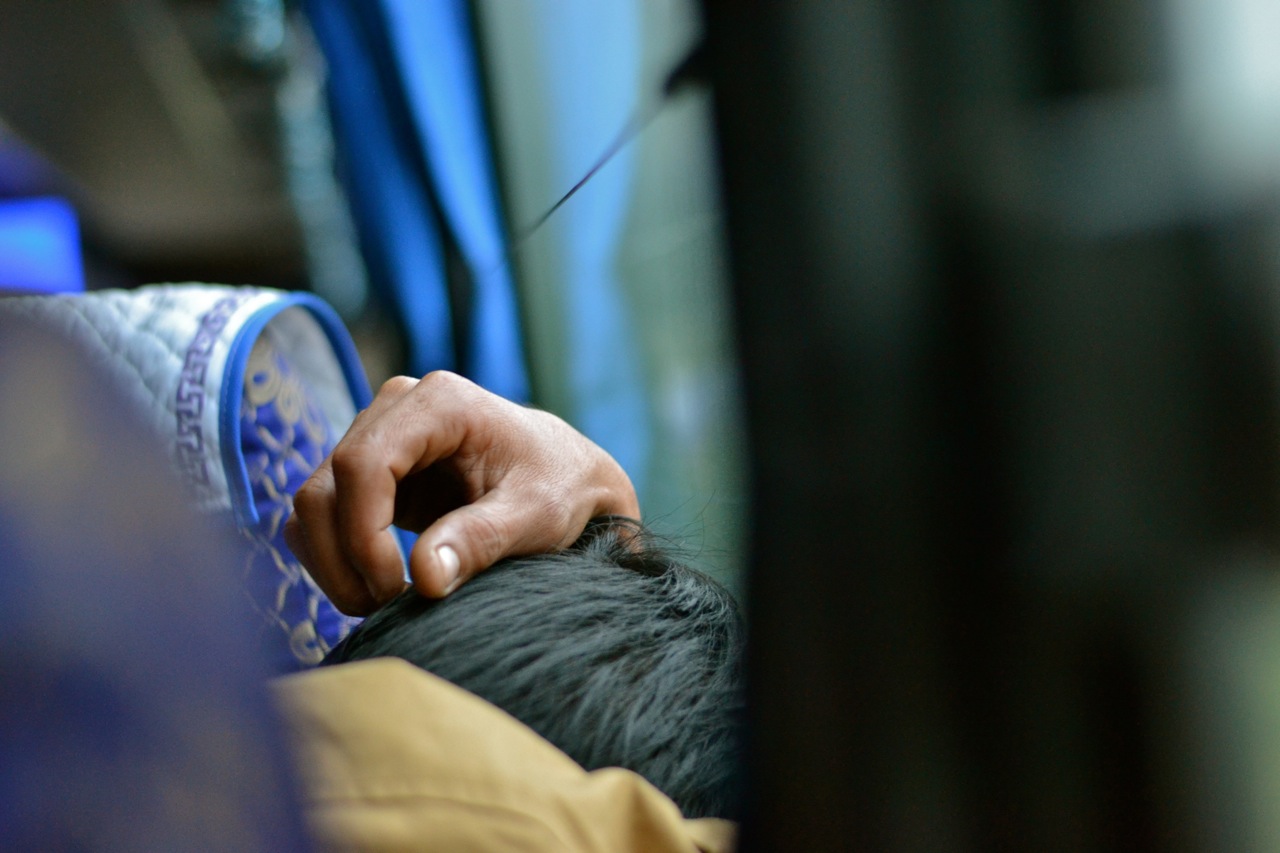 A new train connection is made possible to go directly from Bangkok via Nong Khai (Thailand) to a train station in Laos, near Vientiane. With this connection you can travel from Bangkok directly into Laos to the Thanalaeng train station. Here you can enter Laos on the immagration post. Until now, this remains the cheapest and probably most enjoyable way to get into Vientiane, Laos. The night trains from Bangkok to Vientiane are convenient and provide a fun experience if you have time. Our Explore-Laos blog has updated stories and Lao travel tips about how you can enter Laos via Train in an easy and convenient way.
• 5 Recommendations from Bangkok to Vientiane by Night Train
• 5 More Recommendations from Bangkok to Vientiane by Night Train
Also, check out Seat61 for the most up to date information on train travel from Bangkok to Vientiane and the rest of Southeast Asia.
---
Overland Travel Inside Laos


To Luang Prabang from Southern Laos
You will find daily buses from Vientiane to Luang Prabang and even night buses which run overnight with airconditioning. Taking an overnight bus could save you a night in a guest house! The ride from Vientiane to Luang Prabang is beautiful and takes approximately 8-9 hours. If you are traveling from Pakse, you can take a night bus with sleeping areas for just about US$20 heading toward Vientiane. The night bus from Pakse to Vientiane also takes approximately 8-9 hours.
If you are coming from Vang Vieng, you can find daily 'mini buses' going up north to Luang Prabang or Vientiane for a few US dollars. The duration of this trip will take around 6 hours.

Travel on the Mekong to Luang Prabang
If you are coming from northern Thailand, you may catch buses from Chiang Mai, Chiang Rai and other cities to get to the border town of Chiang Khong (Thai side). From here cross the Mekong Bridge and border to Houay Xai. Here you find also public slow boats down stream toPagbeng and further to Luang Prabang which takes 2 days (2 x 8 hrs.) Visas are available on the border here as mentioned above!
If you have not enough time and want a real adventure, you can ride speed boats which will make this journey occur in one day! They are supposed to be dangerous, but they can actually be very fun riding one.
Note: There are speed boat accidents that tend to occur every year. Also, the government of Lao PDR has future plans to outlaw speedboats due to environmental reasons. So experience this trip while you still can!
To Luang Prabang from Northern Laos
If you are coming from any city in Norther Laos, you will find plenty of daily local Laos style buses to Luang Prabang as well. For example there are buses that depart from Luang Namtha, from Udom Xai, and other towns. Since Luang Prabang is in the middle part of northern Laos, it's a highly frequented town. The two bus stations in Luang Prabang give access to bus trips down south and north likewise. Again, if you need any assistance, come talk to our team.